Pre-Order: Wrecked by Emily Snow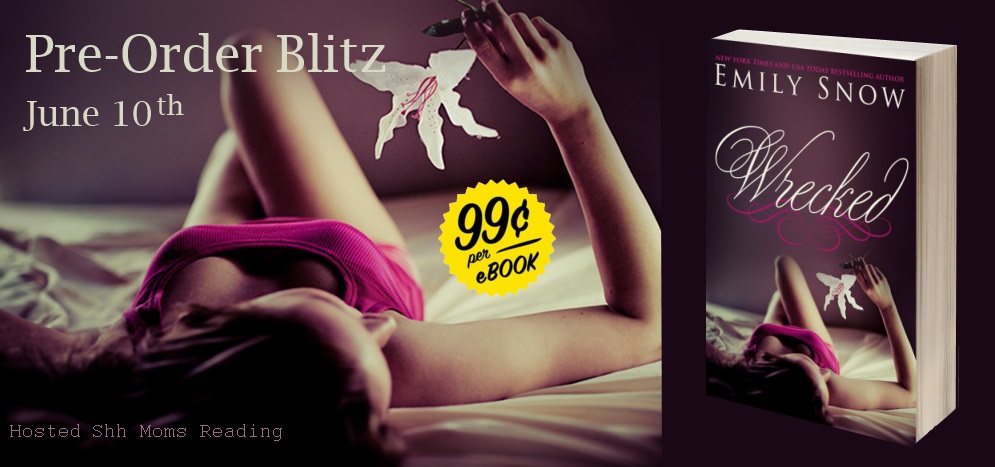 I will lose with Rhys Delane. I will lose the challenge I made myself at the start of this year, and I'll lose my head, my heart. He's changed everything. Turned my life upside down in a handful of months. I don't know how or why or when I let this happen. Out the corner of my eye, I see him turn his head to look over at me. "Give me more of you, Evelyn," he says in a voice that sets my body on fire, a complicated medley of irritation, defiance, and a need that's bittersweet and painful. Rhys isn't asking for more. He's demanding it. My lips part slightly, but I stop myself before I say something I'll regret, like I always do when we're together like this. I pull in a short breath, then a few more. Finally, I meet those unnerving blue-green eyes, letting everything else fade from existence. Agnes Obel's ethereal, haunting voice, the sound of the rain splattering against the windows, and the monotony of the windshield wipers flinging the storm away—I hear none of that when he's staring at me like I owe him something. He wants things I absolutely cannot give. "You've already slept with me." My voice is purposely void of any emotion, and although his face remains calm, I know I've managed to cut him. It's obvious by how quickly his eyes turn cold. "You have enough." And he really does. Because now that I think about it—and even though he's yet to realize it—I've already lost with Rhys Delane. It just took me this long to figure that out.
Emily Snow is the New York Times and USA Today bestselling author of the erotic romance series Devoured, which includes Devoured, All Over You, and Consumed, as well as the new adult novel Tidal. She loves books, sexy bad boys, and really loud rock music, so naturally, she writes stories about all three.