Blog Tour: The Chill of the Night by James Hayman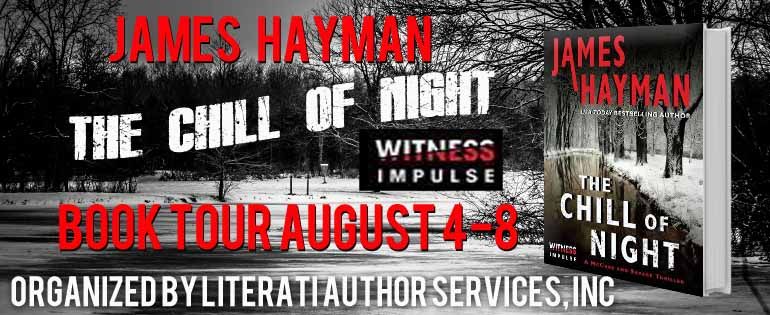 Title: The Chill of Night
Author: James Hayman
Genre: Crime/Thriller/Mystery
Publish Date: August 4, 2014
Publisher: Witness Impulse an imprint of HarperCollins
~ Book Synopsis ~
A frozen corpse. A missing witness. Strange voices that aren't there. One cold night, Lainie Goff, a glamorous young attorney on the fast track to a partnership at Portland's top firm, is found frozen in the trunk of her BMW on the local fishing pier. Detectives Mike McCabe and Maggie Savage quickly uncover a long list of suspects: Lainie's boss, who was also her lover; an ex-priest who runs a shelter for runaway teens; an abusive stepfather who raped Lainie as a teen; and a creepy landlord who seems to know more than he should about her private life. Still, there is no hard evidence until a mentally ill young woman who hears voices gives an island cop an eyewitness account he doesn't take seriously. But when she too disappears, McCabe and Savage find themselves in a desperate race against time to stop a vicious killer before he rids himself of the only person who knows who he is.
~4-Star Review~
I started this series with the first book, The Cutting. I really enjoyed it. So, naturally, it is to be expected that I enjoy this too. Between James Hayman and Joe Conlan, I may turn in to a huge fan of serial killer themed thrillers! These books keep me on the edge of my seat! It's like reading from a script of Criminal Minds.
First, you don't necessarily need to read the first book to read this one. They are two separate stories. The only reason I would suggest reading the first one is to get to know McCabe and crew first. You don't get a whole lot of character development in this one, like you do in the first one.
This book dives right into the new case. There is no build up. The starts right off and continues through the book. It's more down and dirty than the first book. There's more detail in the action. More mental images that will keep you grimacing and wanting more!
If you are a thriller fan or looking for a little change, James Hayman is the man for you! He will not disappoint in either area!
Purchase Links
JAMES HAYMAN, formerly creative director at one of New York's largest advertising agencies, is the author of the acclaimed Mike McCabe series: The Cutting, The Chill of Night, and Darkness First.
Connect with the Author
Giveaway
5 Bluefire Downloads